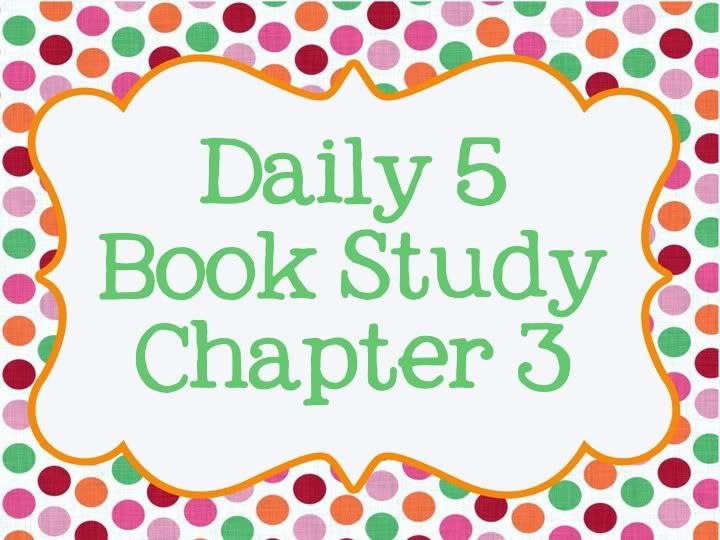 I am so glad that we are finally jumping into to meat of the Daily 5! Here are the questions we were asked to think about in the book study:) Thanks to
Mrs. Freshwater's Class
and
Thinking Out Loud
for hosting this week!
Why is a gathering place important?
I love when the kids are in front of me with minimal distractions:) I also have taught mini lessons as the Sisters have suggested and the children are more focused as they are sitting for a 8-10 minute lesson. The downfall is it is a bit more of transitional time. We will work on this! Suggestions??
How did your students progess with picking appropriate books? What went well? What had to be changed?
Our school has a great selection of Accelerated Reader books and I used the Scholastic Wizard to level my classroom books. I will be using book boxes for the kids this coming year (which is new to me) as well as introducing Good Fit books and trusting that after lots of practice, it will work!
What rituals and routines do you need to teach for this structure to be successful?
I will be introducing, modeling and practicing selecting good fit books. Last year I used the shoe comparison and they got it. I dropped the ball with the continual modeling and practice and they forgot it. I love the idea of using Goldilocks and the Three Bears to guide another lesson!
(If you are already implementing) How did you adapt the rituals and routines introduced in this chapter to make them successful for your students?
Our school/district is using the Marzano model for assessment. The check in goes right along with Marzano with the seld assessment. This helps me see who needs additional help and the are more in tune with their purpose.
I also used anchor charts, but not as consistanly as I wanted. I found some ultra cute ones on
Pinterest that I printed, but the kids did not take ownership of them. I love Abby's over at
The
Inspired Apple
.
What is one statement that stood out above everything in this chapter?
Jim Trelease (2001) SAYS THAT CHILDREN IN CLASSROOMS WITH THE MOST BOOKS CONSISTANTLY OUTPERFORM THEIR PEERS WHO ARE IN CLASSROOMS WITH LITTLE OR NO LIBRARY.