Happy October!
Love that Florida fall has reached us this week.
What does that mean?
Cool temps in the 70's in the mornings and evenings
and only hitting 90 degrees during the day!
I love fall football for the hubby because it means more time for me to play the computer
and work on all things school!
I am so excited.
There are 22 days left until my girls weekend on a scrapbooking cruise!!
Pure heaven here on earth:)
I am ready to pull out our fall decorations this weekend.
Sea World also has Halloween Weekends so maybe we can sneak some time in there too!
I love that Florida teachers get in FREE at Sea World.
And last but not least, I am pulling out this little FREEBIE I had put together last October.
I know my firsties always need extra practice with contractions...
So don't forget to head on over to Farley's
Oh Boy! Fourth Grade
to check it all out!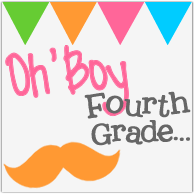 Happy Fall Y'all!